Pitmaster Select™ – Hardwood Smoking Pellets
"DEALERS WANTED"
If you have a passion for BBQ and run a legitimate business, inquire about a dealership for Pitmaster Select smoking pellets. Call Jeff at 402-753-1885, ext 2 or Joey at 800-437-1479, ext 217.
"PITMASTER SECRET"
Just as the oak cask gives a fine whiskey its distinct flavor, it's the smoke that gives food cooked on the grill that great flavor. Nothing makes grilling tastier than Pitmaster Select™ hardwood Smoking Pellets.
Pitmaster Select™ smoking pellets are 100% HARDWOOD. NO ARTIFICIAL FLAVORS or oils! Each bag contains 30% to 60% of the featured FLAVOR WOOD! If it says APPLE on the bag, there's apple in the bag! Use Pitmaster Select™ on pellet grills or conventional gas, charcoal and electric grills. No messy wood chips! No soaking! Why settle for less, buy the smoking pellets SPECIALLY BLENDED FOR COMPETITION COOKERS!
Online Shopping Cart!
Order Pitmaster Select in 5 oz foil pouches or 20 lb bags online!
Shopping Cart
News & Events
Bull Rush & Pitmaster team up for 2013!
The Bull Rush competition BBQ team from Dundee, FL will be using Pitmaster Select smoking pellets exclusively for the 2013 season. Bryan Mroczka (pit boss) claims Pitmaster pellets last longer and give a heavier smoke than the competition.
Downtown Orlando BBQ Cookoff Grand Champion Bull Rush
Pitmaster Select & Team Fitzgerald's Smoked Venison Steak Nachos
Watch this mouth watering youtube video and see how Team Fitzgerald (America's #1 Bowhunting Team) smokes venison steak nachos using Pitmaster Select Hickory smoking pellets.
Fitzgerald Hoss Buck Smoked Steak Nachos Web Video
Congratulation Willingham's BBQ & Catering!
Willingham's won "Best of Show" at Ribfest in Lincoln,NE using Pitmaster's maple pellets. Congratulations.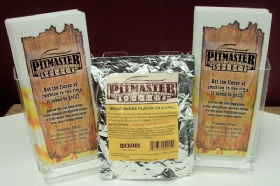 NEW! Single use foil pouch for Gas, Charcoal, and Electric Grills!
Pitmaster Select™ pellets are specially blended to enhance the natural flavor of meat. No artificial flavors or oils! 100% hardwood! Our READY-TO-USE 5 oz foil pouches provide 30 to 40 minutes of great smoke flavor on conventional gas, charcoal and electric grills. Why settle for less, get the smoking pellet used by competition cookers.
Featured woods include: Apple, Hickory, Mulberry, Mesquite, Cherry, Pecan, Maple, and our special Oak Blend.
Pellet Grills:
Fill the hopper with your favorite Pitmaster Select™ pellet, start grill per mfg's instructions and set thermostat to desired temperature. When grill reaches desire temperature, place meat on grill and cook until done.
Pitmaster Select™ smoking pellets can be purchased in 20 lb bags.


Conventional Grills:
Purchase READY-TO-USE foil pouches filled with your favorite Pitmaster Select™ wood blend. Poke 1 hole with a toothpick in top of foil pouch and place on hot coals or heat shield and close lid. No Soaking! No mess! When pellets begin to smoke, place meat on grill and cook to desired wellness.